Feel like a little bit of binge watching? Access all of CommuniVETTM's video content on Vet TV!

VANGUARD® crLyme: The first and only chimeric recombinant Lyme disease vaccine. For more information about VANGUARD® crLyme, contact your Zoetis representative. This content is sponsored and does not necessarily reflect the views of CommuniVET™.
Sponsored by
What inspired Dr. Steagall to study veterinary medicine? What are some of the most recent breakthroughs in anesthesia and pain management? What are the main concerns he tries to address through his research? What would he like to pass on to future generations of veterinarians? Watch this exclusive video interview for answers to these questions and to find out what an anesthesiologist's best quality should be!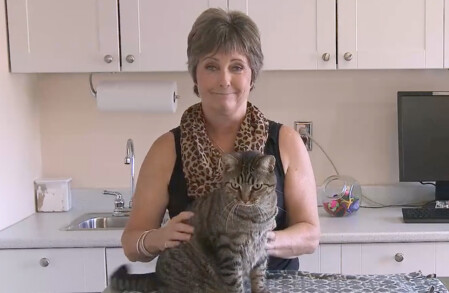 The ultimate master of disguise, Mr. Cat won't usually show obvious signs of pain, although he might actually be suffering. So how can you teach your clients to notice if Mr. Cat is sick or hurting? In this 1-minute video, Dr. Elizabeth O'Brien – board-certified feline specialist and the visionary behind CatHealthy – highlights a few changes in behaviour that could be signs of pain or sickness. Encouraging cat owners to observe their beloved feline's normal actions and facial expressions...
Sponsored by
If indoor cats could talk, they'd probably tell their owners that, as much as they appreciate a comfortable environment and a full belly, it takes more than that to make them happy. As far removed as they may be from their cousins in the wild, indoor cats are still hunters at heart, as feline specialist Dr. Kelly St. Denis explains in this one-minute video. Share it with your clients to help them discover ways to provide their favourite felines with the stimulating environment they need and...
Sponsored by
What motivated Dr. D'Astous to choose veterinary dentistry as his specialty? What does he find the most rewarding about his work? Of what achievements is he the most proud? What advice would he give new graduates? Watch this exclusive video interview for answers to these questions... and to find out what it's like to perform "supersized" dental procedures on tigers and other zoo animals!
2018-05-15
Discover the results of the VALVE study on dual vs. triple therapy – it could change the way you treat congestive heart failure (CHF) due to myxomatous mitral valve disease (MMVD).
Sponsored by
As you know, cats are masters of disguise and don't usually like to show they're ill or in pain in any way. So how does your client know if her cat is sick or hurting if Fluffy doesn't show obvious signs? This 1-minute video – presented by Dr. Elizabeth O'Brien, board-certified feline specialist and the visionary behind CatHealthy – encourages owners to begin taking note of their cat's normal behavior and regular patterns (such as how often Felix uses the litter box, how much Bella drinks,...
Veterinary anesthesiologist Dr. Craig Mosley has taken a circuitous (and fascinating) route to the career he describes as a perfect fit for him – a specialty that not only combines all the basic sciences, but also allows him to work with many different species... from iguanas to elephants!
2018-04-01
A review of the diagnosis and management of canine acquired heart disease. The talk emphasizes diagnosing and managing the disease in the general practice setting, and helps clinicians to develop a clinic protocol to manage patients with asymptomatic heart disease as well as those with congestive heart failure.
Sponsored by